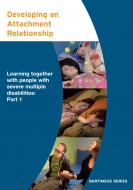 Dvd Developing an attachment relationship

Learning together with people with severe multiple disabilities: Part 1
In this film we demonstrate how parents and caregivers can build up an attachment relationship with children or clients with severe and multiple disabilities. The various phases in the development of the relationship are shown, from mirroring or copying initiatives by the child/client to the eventual development or taking turns by the parent or caregiver and the child/client.
The methodology is based on Bowlby's attachment theory and on the communication programme developed by Mary Lee and Lindi MacWilliam of the Royal National School for the Blind in Scotland.
It provides an understanding of the development of an attachment relationship with people with severely limited capabilities. Through a lot of repetition and by following consciensly articulated steps, a child or client can develop a secure relationship with the parent or caregiver.
Meant for: Parents and caregivers of people with severe and multiple disabilities, paramedics, educationalists, therapists ans psychologists.
A film by:
Paula Sterkenburg
Jan IJzerman
Marlou de Jong
More information
Year of publication: 2010
Length: 26 minutes
For questions you can send an e-mail: bibliotheek@bartimeus.nl
Minder informatie
€ 21.60
per stuk
(incl. 9% BTW)