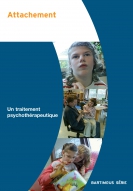 Video Attachment (Nederlands / English)

This Video shows the therapeutic treatment of persons with visual and severe intellectual disabilities who present persistent challenging behaviour and an attachment disorder.
This treatment consists of three phases: attachment-based therapy, behaviour modification and generalization and completion. These phases are presented individually and the theoretical background of this treatment is briefly explained. Attention is also given to the influence of the visual impairment and how this aspect is integrated in the treatment. The therapy discussed in the film is an intensive form of treatment. Use of this methodology demands discretion and expertise. We therefore refer to the training provided by the Department of Psychotherapie of Bartiméus.
The Video is intended for anyone who is involved with children with a visual and severe intellectual disability presenting persistent challenging behaviour and an attachment development disorder.
More information
A film by:
Paula Sterkenburg
Jan IJzerman
Minder informatie
€ 0.00
per stuk
(excl. 0% BTW)