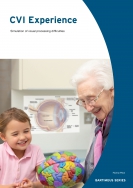 CVI Experience (english version)

Simulation of visual processing difficulties to provide insight into the consequences of cerebral visual impairment in children, youths and adults.
Visual perception is very important in order to function normally in the world. We usually think the world is as we see it. We assume our perception is 'perfect' and correct. However, visual perception is a complex process. Our brains continuously process information that enters via the eyes, linking it to existing knowledge, integrating and interpreting it, allowing us to understand and recognise what we see. Brain damage can sometimes disrupt this process. This is referred to as Cerebral Visual Impairment (CVI).
Bartiméus is an expert in the diagnosis of CVI, and treats children and adults with this condition.
CVI is a complex diagnosis with a variety of forms. The desire expressed by many parents or partners to see the world through the eyes of their child or partner is not easily fulfilled. CVI Experience tries to allow people to experience the complexity of visual processing. This knowledge and experience ensures greater empathy and understanding among everyone involved with people with CVI
This book includes a
download CVI Experience
with all of the files that can be used for the exercises. Some items fall into multiple categories and can be applied in different situations.
Author: Florine Pilon
Artikelnr
: 163143190028
ISBN
: 9789071534782
Aantal pagina's
: 62
Versie
: 1


Minder informatie
€ 19.84
per stuk
(incl. 9% BTW)